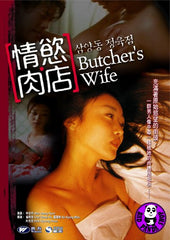 Region Coding: Region Free
Starring: 
Choi Cheol Ho
Na Kyong Mee
Park Kyoung Hwan

Director: 

Shin Jeong Kyun

Audio Tracks: 
Dolby Digital 5.1

Languages: 
Korean

Subtitles: 
English, Traditional Chinese, Simplified Chinese

Running Time: 
85 minutes

Distributor:
Winson Entertainment Distribution Ltd.(HK)

Release Date:
25 Oct 2006

Synopsis:
A homicide case has taken place in the butcher's store. The Store-owner bore the blame for the crime and had been put in jail. Dong who takes charge of the investigation and finds he is deeply attracted to Aoi, the butcher's wife, and he's completely obsessed by her, even quitting his job to take over the butcher's store, so as to stay with Aoi all day long. One day, the store-owner is released from jail and Dong becomes anxious...
More items to consider...