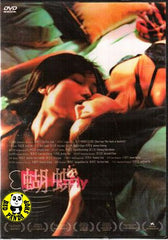 Region Coding: Region Free
Starring: 
Josie Ho
Tian Yuan
Eric Kot
Joman Chiang
Mak Yan Yan

Audio Tracks: 
Dolby Digital 5.1

Languages: 
Cantonese, Mandarin

Subtitles: 
English, Traditional Chinese, Simplified Chinese

Running Time: 
129 minutes

Distributor:
Panorama HK Distributions

Release Date:
5 Feb 2005

Synopsis:


Like a butterfly emerging from its chrysalis, Flavia finds her lesbian passion reawakened after a chance encounter with a carefree and spirited singer/songwriter. A shattering new film from award-winning director Yan Yan Mak (Gege, 2001), Butterfly alternates between the past and the present, juxtaposing a romance to a rebellious human rights activist in 1989 with her current struggles as a wife and mother fronted by a brave and sympathetic performance by Josie Ho, the film dares to challenge the institutions of family and marriage while championing individual rights for all Hong Kongers.





More items to consider...