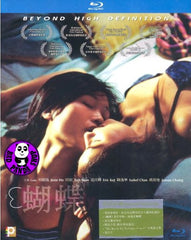 Region Coding:
Region Free
Starring: 
Josie Ho

Eric Kot
Tian Yuan
Joman Chiang
Isabel Chan

Director: 
Mak Yan Yan

Audio Tracks: 
DTS-HD Master Audio 5.1
Dolby Digital 5.1

Languages: 
Cantonese, Mandarin

Subtitles: 
English, Traditional Chinese, Simplified Chinese

Running Time: 
129 minutes

Distributor:
Panorama HK Distributions

Release Date:
27 Nov 2009

Synopsis:

Like a butterfly emerging from its chrysalis, Flavia finds her lesbian passion reawakened after a chance encounter with a carefree and spirited singer/songwriter. A shattering new film from award-winning director Yan Yan Mak (Gege, 2001), Butterfly alternates between the past and the present, juxtaposing a romance to a rebellious human rights activist in 1989 with her current struggles as a wife and mother fronted by a brave and sympathetic performance by Josie Ho, the film dares to challenge the institutions of family and marriage while championing individual rights for all Hong Kongers, gays and lesbians included. Opening Film at Venice Film Festival Critics Week.
More items to consider...