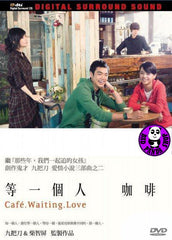 Region Coding: Region 3 (Locked)

Starring:
Vivian Chow
Steve Bruce
Pauline Lan
Li Lou
Megan Lai
Song Yunhua
Zhang Li Ang
Chen Yu An

Director:
Jiang Jinlin

Writer:
Giddens Ko

Audio Tracks: 
Dolby Digital 5.1 Surround

Languages: 
Original Soundtrack

Subtitles:
English, Traditional Chinese

Running Time: 
119 minutes

Distributor:
Edko Films Ltd. (HK)

Release Date:
10 Dec 2014

Synopsis:
College freshman Si-ying gets a part-time job at "Café. Waiting. Love" coffee shop, where she befriends Abusi, a tomboyish barista who can make any coffee the customers request, the beautiful and mysterious café owner, and Zeyu, the boy who always sits in the same spot in the café and seems to be very popular with girls.

A-Tuo, a college senior with legendary tales, comes to "Café. Waiting. Love". One day where he runs into Abusi, who was the reason for his breakup with his ex-girlfriend. A-Tuo is teased by his friends, and Si-ying stands up for him and the two become good friends.

Deeply attracted to Si-ying's sense of right and wrong, A-Tuo introduces these friends to Si-ying, whose life becomes more enriched and colorful as a result…


movie trailer (English subtitled)

More items to consider...