Casino Raiders: The Sequel 至尊計狀元才 (1990) (Region Free DVD) (English Subtitled) Remastered a.k.a. No Risk, No Gain
$18.99 USD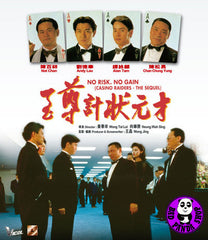 Region Coding: Region Free

Starring:
Andy Lau 劉德華
Alan Tam 譚詠麟
Christine Ng 吳倩蓮
Michelle Reis 李嘉欣
May Lo 羅艾薇
Chan Chung Yung 陳松勇
Nat Chan 陳百祥

Director:
Taylor Wong 黃泰來
Jimmy Heung 向華勝

Audio Tracks: 
Dolby Digital 2.0

Languages: 
Cantonese, Mandarin

Subtitles:
English, Traditional Chinese, Simplified Chinese

Running Time: 
- minutes (TBA)

Distributor: 
Vicol Entertainment Ltd. (HK)

Release Date:
15 Oct 2015

Synopsis:
As an adviser of a Renown U.S. Casino and a Prominent Gambler, "The Supreme" Ray has encountered many adventurous challenges in his career. "Tiger Eye" Chiang has made Ray undertake to contest with him in Macau. Ray's adventure begins again. Via Hong Kong, Ray meets his female cousin's friend snakey, "Big Dee" and his schoolmate Janey. Unfortunately, he is cheated by these two guys and loses all his possession. The two guys pretend to be Supreme's identity to Macau, and the card competition are beginning….

More items to consider...