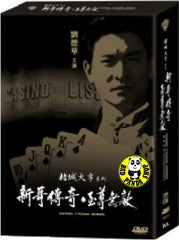 Region Coding: Region 3 (Locked)

Starring: 
Andy Lau
Alex Man
Chingamy Yau
Paul Chun
Joey Wang

Audio Tracks: 
Dolby Digital Mono

Languages: 
Cantonese, Mandarin

Subtitles: 
English, Traditional Chinese

Running Time: 
126 + 114 minutes

Distributor:
Intercontinental Video Limited (IVL)

Release Date:
9 Aug 2007

Synopsis:

Fiction mixes with fact in this gambling epic, inspired by the life of Macau's "Casino King" Stanley Ho. Andy Lau is in his element as the tycoon of the title, tracing his blood-splattered fight to the top and spanning the 1930s to the 1960s. The combination of action, romance, and gambling was irresistible to local audiences, and proved a resounding Chinese New Years hit in 1992.

In this sequel, 20 years have passed and Ho Hsin (Andy Lau) is now the proud and powerful owner of a chain of casinos in Macau. Unfortunately, he is also the target of many enemies, some of whom are in dangerously close proximity to him. But Ho has faced adversity before and is not about to just roll over and die...

More items to consider...