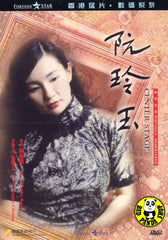 Region Coding: Region 3 (Locked)

Starring: 

Maggie Cheung 張曼玉
Tony Leung Ka Fai 梁家輝
Carina Lau 劉嘉玲
Cecilia Yip 葉童



Audio Tracks: 
DTS 5.1
Dolby Digital 5.1
Dolby Digital 2.0

Languages: 
Cantonese, Mandarin

Subtitles: 
English, Traditional Chinese, Simplified Chinese

Running Time: 
154 minutes

Distributor:
Joy Sales

Release Date:
27 Apr 2007

Synopsis:

"Center Stage" is set during China's silent movie era and revolves around the life of the legendary life of a gifted actress, Ruan Ling-Yu. With her sensitive portrayal, Maggie Cheung Man-Yuk took her story abroad and won the best actress award at the 42nd Berlin International Film Festival.
In the spring of 1935, silent movie star Ruan Ling-Yu took her own life, shocking the world. Her funeral was attended by hundreds of thousands of mourning fans. Ruan entered the film world at the age of 16. In the short span of 9 years, she made 29 silent movies and became the idol of thousands. As she rose to fame, she also rose to infamy with scandals over her private life. Her death at such an early age has given rise to much debate: did she kill herself because of her career? Or for love? In her farewell note, Ruan Wrote four words - "criticism should be feared" - and gave her final condemnation on the merciless public.
More items to consider...