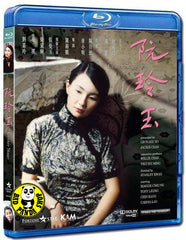 Region Coding: Region A (Locked)

Starring:  
Maggie Cheung 張曼玉
Tony Leung Ka Fai 梁家輝
Carina Lau 劉嘉玲
Cecilia Yip 葉童

Director:  
Stanley Kwan 關錦鵬

Audio Tracks: 
DTS-HD Master Audio 7.1, Dolby Digital EX, THX Surround EX

Language:  
Cantonese 粵語

Subtitles: 
English, Traditional Chinese 繁體中文字幕

Running Time:  
154 minutes

Distributor: 
Kam & Ronson Enterprises Co., Ltd.

Release Date:
02 Aug 2012

Synopsis:
This is the true story of Yuan Ling-yu, the first movie star of the 1930's. Hailing from an obscure background, she became the prima donna of the Chinese screen. Students worshipped her as a cult symbol. Men looked at her with dreamy eyes and women looked at her sideways and full of hate.

Yes, for nine years since her movie at 16, Yuan Ling-yu managed to star in 29 movies. Her roles were usually pathetic ones : girl student, rustic maid, factory hand, prostitute, socialite and authoress. And her endings were invariably tragic : incarceration in a prison, mental breakdown, forced marriages, starvation, illness and even suicide......
More items to consider...