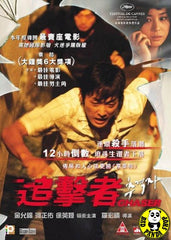 Region Coding: Region 3 (Locked)
Starring: 
Ha Jung Woo
Seo Young Hee
Kim Yoon Seok

Director: 

Na Hong Jin

Audio Tracks: 
Dolby Digital 5.1, DTS Digital Surround

Languages: 
Korean

Subtitles: 
English, Traditional Chinese 繁體中文字幕

Running Time: 
125 minutes

Distributor:
Panorama (HK)

Release Date:
12 Dec 2008

Synopsis:
Ex-detective pimp Jung-ho has a big problem on his hands. His girls keep disappearing without clearing their debts. One night, he gets a call from a customer and sends Mi-jin, one of his girls still remaining, while ignoring her refusal due to her bad cold. But when Mi-jin meets the customer against her will, Jung-ho realizes the phone number of the customer matches that of the calls the missing girls got last. As something smells fishy, he searches for her.
More items to consider...