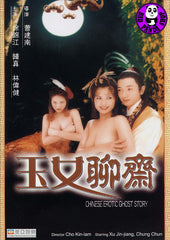 Region Coding: Region Free

Starring: 
Xu Jin Jiang
Jane Chung Chun
Oscar Lam Wai Kin
Elvis Tsui
Ronald Wong Ban

Director:
Cho Kin Lam

Audio Tracks: 
Dolby Digital

Languages: 
Cantonese, Mandarin

Subtitles: 
English, Traditional Chinese, Simplified Chinese

Running Time: 
84 minutes

Distributor:
Mei Ah Entertainment (HK)

Release Date:
02 Oct 2004

Synopsis:

A minor staff amends the life-and-death registry he carelessly ruined when he stole a monk statue for his vicious master from a temple. The spirit of the statue awards him by making him handsome and powerful. With the help of the monk, he also enchants the most beautiful prostitute in town. The twist of fate brings him wealth and joy. Yet his wife and his master are behind him with their spells of misfortune.
More items to consider...