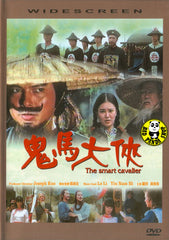 Region Coding: Region Free

Starring: 
Lo Li
Yiu Nam Hi

Director:
Joseph Kuo Nan Hong

Audio Tracks: 
Dolby Digital

Languages: 
Mandarin

Subtitles: 
English, Traditional Chinese, Simplified Chinese

Running Time: 
92 minutes

Distributor:
Mei Ah Entertainment (HK)

Release Date:
06 Dec 2001

Synopsis:

Ching Emperor Yung Ching tried every means to uproot all counter forces, while a knight, Kam Fung Chi, had worked out his plan to restore Ming. Unfortunately, he became Siu Ping's husband when he won her in a fight. At that time the Emperor's First Guard, leading 3,000 Ching soldiers orderred to kill the gang of 8 and Kim. A real long fight being....
More items to consider...