Chinese Puzzle (2013) (Region 3 DVD) (English Subtitled) French movie a.k.a. Casse-tête chinois
$17.99 USD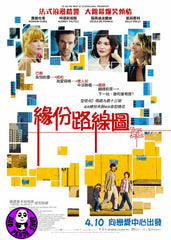 Region Coding: Region 3 (Locked)

Starring:
Romain Duris
Kelly Reilly
Audrey Tautou
Sandrine Holt
Cecile De France
Margaux Mansart

Director:
Cedric Klapisch

Audio Tracks: 
Dolby Digital 5.1 Surround

Languages: 
Original Soundtrack

Subtitles:
English, Traditional Chinese

Running Time: 
- minutes (TBA)

Distributor:
Edko Films Ltd. (HK)

Release Date:
19 Nov 2014

Synopsis:
A 40-year-old father of two, still finds life very complicated. When the mother of his children moves to New York, he can't bear them growing up far away from him and so he decides to move there as well.


More items to consider...