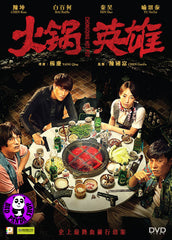 Region Coding: Region 3 (Locked)

Starring:
Aloys Chen Kun 陳坤
Bai Baihe 白百何
Qin Hao 秦昊
Yu Entai 喻恩泰

Director:
Yang Qing 楊慶

Audio Tracks: 
Dolby Digital EX

Language: 
Original Soundtrack (Mainly in Mandarin)

Subtitles:
English, Traditional Chinese, Simpilifed Chinese

Running Time: 
97 minutes

Distributor: 
Panorama (HK)

Release Date:
7 Oct 2016

Synopsis:
From director Yang Qing (ONE NIGHT AT THE SUPERMARKET) comes CHONGQING HOT POT, the official opening night film at the Hong Kong Film Festival. When three friends open a hot pot restaurant in a former bomb shelter, they discover it's linked by a single wall to the bank vault next door. While deciding to take the easy money or go to the police, they find out one of the bank's employees is a former classmate and look to enlist her in deciding their future.


movie trailer (English subtitled)

More items to consider...