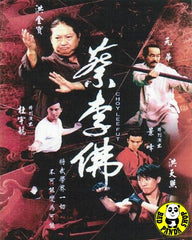 Region Coding: Region 3 (Locked)

Starring:  
Sammo Hung
Yuen Wah
Dennis To
Hung Tin Chiu
Kosugi Kane

Director:
Law Wai Tak
Wong Ming Sing

Audio Tracks: 
DTS-ES 6.1
DTS Extended Surround
Dolby Digital 6.1 EX
THX Surround EX

Languages: 
Cantonese, Mandarin

Subtitles: 
English, Traditional Chinese, Simplified Chinese

Running Time: 
93 minutes

Distributor:
Vicol Entertainment

Release Date:
23 Jun 2011

Synopsis:

The story revolves around two best friends who love martial arts. They are Hung Gar exponents after learning the art from Hung's father (Sammo Hung). When they want to learn other forms of martial arts, they head off to China in an attempt to learn the art of Choy Lee Fut Kung Fu. Kosugi's character wants to learn the art because his grandfather was once defeated by a female exponent of the art and wanted to learn but never had the chance to. When the duo head to China, they learn that the Choy Lee Fut school is being challenged by a rival school. Hung and Kosugi enter a martial arts tournament to save the future of the school.
More items to consider...