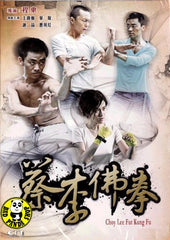 Region Coding: Region 3 (Locked)

Starring:  
Wang Bao Qian
Tse Miu
Wei Ying Hung
Michelle Ye

Director:
Ching Tung

Audio Tracks: 
Dolby Digital 5.1

Languages: 
Cantonese, Mandarin

Subtitles: 
English, Traditional Chinese, Simplified Chinese

Running Time: 
96 minutes

Distributor:
CN Entertainment

Release Date:
8 Dec 2011

Synopsis:

Danny grew up in U.S.A., won the boxing champion in the joint University tournament and became famous in the Chinatown. Because of his father, he decided to go back to homeland China to learn Chinese Kung Fu. Danny's father, Peter, was a jade merchant. He was also the organizer of the Choy Lee Fut martial art school. He sent his housekeeper, Tony, to pick up Danny at the airport but Tony picked up the wrong Danny back to the martial art school.

At the Airport, Danny mistakes Jane as the woman who just cheated his cell phone and fought with her friend, Dragon. Dragon used Chinese Kung Fu to knock down Danny. This was Danny's first taste of the powerful Chinese Kung Fu. At the same time he found his luggage disappeared. The penniless Danny meets Jane again. After an explanation, they became friends. Jane helped Danny to get back his passport document and got in touch with his father. During the process they had subtle feelings with each other...
More items to consider...