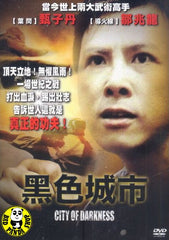 Region Coding: Region Free

Starring: 
Donnie Yen
Collin Chou
Billy Chow

Audio Tracks: 
Dolby Digital

Languages: 
Cantonese, Mandarin

Subtitles: 
English, Traditional Chinese, Simplified Chinese

Running Time: 
92 minutes

Distributor:
Kam and Ronson

Release Date:
22 Apr 2010

Synopsis:

Fei, White and Fong didn't know each other, but each of them holds part of the same piece of jade.Whilst being pursued and captured by villain Duan Mu, the three discover that they are siblings and know the three jades hold the secret to hidden treasure. After escaping from the clutches of Duan Mu with help from Inspector Edge, they decide to find the treasure. Finally, when they arrive at the site of treasure, Duan Mu has emerged again. Watching helplessly, Inspector Edge's friend Lam appears and rescues everyone...
More items to consider...