City of God (2002) (Region A Blu-ray) (English Subtitled) Brazilian Movie a.k.a. Cidade de Deus
$18.99 USD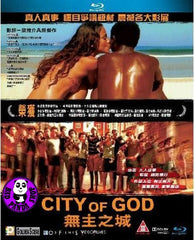 Region Coding: Region A (Locked)

Starring: 
Matheus Nachtergaele
Seu Jorge
Alexandre Rodrigues
Leandro Firmino da Hora

Director:
Katia Lund
Fernando Meirelles

Audio Tracks: 
Dolby TrueHD 5.1

Languages: 
Portuguese



Subtitles:


English, Traditional Chinese

Running Time: 
130 minutes

Distributor:


Panorama HK Distribution



Release Date:
1 Apr 2011

Synopsis:


The main character in Cidade de Deus is not a person. It is a place. Cidade de Deus is a poor housing project started in the 60's that became one of the most dangerous places in Rio de Janeiro by the beginning of the 80's. In order to portray the location, the film presents the stories of several characters, with Buscape, the narrator, as a linkage in between. Buscape is a poor black kid too frail and scared to become an outlaw but also too smart to be content with an underpaid job. Buscape is not the real protagonist of the film, he's not the one who leads pregression, he's not the one who makes the decision on what happens next. Nevertheless, not only his life is attached to what happens in the story but it is also through his perspective of life that we understand the humanity of a world apparently condemned to endless violence.
More items to consider...