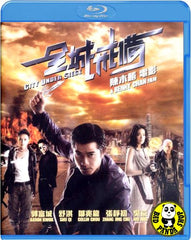 Region Coding: Region A (Locked)

Starring:  
Aaron Kwok 郭富城
Shu Qi 舒淇
Zhang Jing Chu 張靜初
Jacky Wu Jing 吳京
Collin Chou 鄒兆龍
Yuen Wah 元華
Chrissie Chau 周秀娜
Elanne Kwong 江若琳

Director:
Benny Chan 陳木勝

Audio Tracks: 
Dolby TrueHD 7.1, DTS-HD Master Audio, LPCM

Languages: 
Cantonese, Mandarin

Subtitles: 
English, Traditional Chinese, Simplified Chinese

Running Time: 
112 minutes

Distributor:
Universe Laser (HK)

Release Date:
28 Oct 2010

Synopsis:

Sunny (Aaron Kwok) is a naïve circus performer who dreams of inheriting his father's knife-throwing skills. However, his hostile colleagues continue to bully him, relegating him to a lowly clown. On a tour to Malaysia, Cheung (Colin Chou) and the other performers discover a cave occupied by the Japanese Army during World War II. Instead of finding treasure, the performers, including Sunny, are sprayed with a mysterious chemical that turns them into superhuman mutants. Back in Hong Kong, Cheung and his gang wreak havoc on the city by pulling off a series of daring bank robberies. With the city gripped by fear, Sunny becomes the city's latest crime fighting hero with the help of opportunistic reporter Angel (Shu Qi) and two supernatural phenomenon experts from China (Wu Jing and Zhang Jing Chu).
More items to consider...