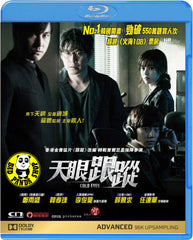 Region Coding: Region A (Locked)

Starring:
Sol Kyung Gu
Jung Woo Sung
Han Hyo Joo
Lee Joon Ho
Kim Byung Ok

Director:
Cho Ui Seok
Kim Byung Seo

Audio Tracks: 
Dolby True-HD 7.1, Dolby Digital Plus 7.1

Languages: 
Korean

Subtitles:
English, Traditional Chinese 繁體中文字幕

Running Time: 
- minutes (TBA)

Distributor:
CN Entertainment (HK)

Release Date:
21 Nov 2013

Synopsis:
Adapted from the award winning HK production "Eye In The Sky".

Detective Hwang (Sol Kyung-Gu) leads a specialized surveillance team in the police department. Yoon-Joo (Han Hyo-Joo) takes a test to join the team. She's tested on her observation skills and memorization. She passes her test and becomes the newest member of the surveillance team.

While, Yoon-Joo takes her test, James (Jung Woo-Sung) and his crime group robs a bank. He stands on the rooftop of a nearby building and directs his team's movements. He doesn't tolerate any mistakes.
As soon as Yoon-Joo joins the surveillance team, they are tasked to take down James' criminal group. The surveillance team immediately runs into trouble when they can't identify any of the robbers due to their masks and their efficiency in robbing the bank. Detective Hwang finds one man caught on CCTV near the bank.
James gets a new order from a mysterious broker (Kim Byung-Ok) and once again completes a heist. While, the surveillance team goes after James, the mysterious broker also looks to take out James.

movie trailer (English subtitle)

More items to consider...