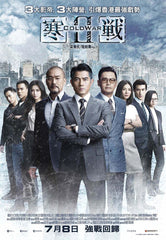 Region Coding: Region 3 (Locked)

Starring:
Aaron Kwok 郭富城
Tony Leung Ka Fai 梁家輝
Chow Yun Fat 周潤發
Charlie Yeung 楊采妮
Eddie Peng 彭宇晏
Janice Man 文詠珊
Aarif Lee 李治廷
Tony Yang

Directors:
Sunny Luk Lu 陸劍青
Liang Le Min 梁樂民

Audio Tracks: 
Dolby Digital 5.1 EX Surround, DTS-RS 5.1 Matrix

Languages: 
Cantonese, Mandarin

Subtitles:
English, Traditional Chinese

Running Time: 
110 minutes

Distributor: 
Edko Films Ltd. (HK)

Release Date:
19 Oct 2016

Synopsis:
COLD WAR, the highest grossing Hong Kong film in 2012, went on to win 9 major awards in the Hong Kong Film Awards, including Best Film, Best Director, Best Screenplay and Best Actor for Tony Leung Ka Fai. 4 years later, the story of this highly-anticipated sequel continues as Acting Police Commissioner Sean Lau (Aaron Kwok) is promoted to the highest rank in the police force. Joe (Eddie Peng Yuyan), son of Deputy Police Commissioner Waise Lee (Tony Leung Ka Fai) who is behind the conspiracy, is taken into custody and Waise is forced to retire. But the mastermind remains unknown, until the resurface of a former police chief who unveils an unprecedented scheme to corrupt the police force. Things get more complicated when senior counsel Oswald Kan (Chow Yun Fat) leads an impeachment proceeding against Sean. Oswald's every decision is pivotal in determining who stays on top of the game.


movie trailer (English subtitled)

More items to consider...