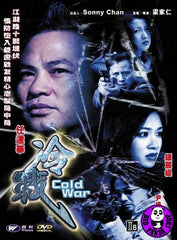 Region Coding: Region Free

Starring: 
Simon Yam
Christy Chung
Wan Yeung Ming

Director:
Leung Ka Yan

Audio Tracks: 
Dolby Digital

Languages: 
Cantonese, Mandarin

Subtitles: 
English, Traditional Chinese, Simplified Chinese

Running Time: 
93 minutes

Distributor:
Winson Entertainment

Release Date:
23 Nov 2009

Synopsis:

Ka Chiu is a cool assassin whose most recent assignments have all been high-ranking members of the Tien Yee gang, the most powerful triad group in all of Southeast Asia. Ka Chiu suspects there might be a gang war looming, but he continues on his path regardless of his better judgment. When Ka Chiu discovers that his assistant Maria knows Tien Yee lieutenant Yung, betrayal and treachery might be in store for the veteran killer. Can this righteous assassin beat the odds and outwit both the cops and the criminals on his tail?
More items to consider...