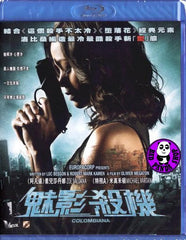 Region Coding: Region A (Locked)

Starring: 
Zoe Saldana
Jordi Molla
Michael Vartan
Cliff Curtis

Director:
Olivier Megaton

Audio Tracks:
Dolby DTS-HD Master Audio 7.1
Dolby TrueHD 7.1

Languages: 
English

Subtitles:


English, Traditional Chinese, Simplified Chinese

Running Time:
108 minutes

Distributor:
Vicol Entertainment

Release Date:
23 Dec 2011

Synopsis:
1992 Colombia - Nine-year-old Cataleya Restrepo witnesses the brutal murder of her parents by a Colombian drug lord Don Luis. Cataleya manages to escape the bullets of the assassin and reaches Chicago, where her gangster uncle Emilio lives. Emilio is doing his best t o keep Cataleya out of the criminal life, but she is determined to become a professional killer. Fifteen years later, Cataleya (Zoe Saldana) has become a real killer operating on behalf of her uncle, but her sole desire is to find Don Luis and avenge the death of her parents.
More items to consider...