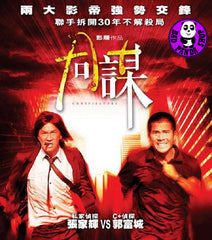 Region Coding: Region A (Locked)

Starring:
Aaron Kwok 郭富城
Nick Cheung 張家輝
Jiang Yi Yan 江一燕
Cheng Ching Hsiang (Ah Niu)
Chen Kuan Tai
Lam Wai
Wang Jun
Terence Siufay

Director:
Oxide Pang 彭順 (Pang Brothers)

Audio Tracks: 
DTS-HD Master Audio, Dolby Digital 5.1

Languages: 
Cantonese, Mandarin

Subtitles:
English, Traditional Chinese, Simplified Chinese

Running Time: 
130 minutes

Distributor:
Universe Laser (HK)

Release Date:
28 June 2013

Synopsis:
CONSPIRATORS directed by Oxide Pang, stars award winning actors Aaron Kwok and Nick Cheung. It is an action, drama, thriller which talks about 2 detectives from 2 different countries investigating the same case. As their investigation brings them closer to the truth, they found out something else. What can it be, and what is the truth that lies within?
1. C+ 偵探
2. B+ 偵探
3. 同謀

movie trailer
More items to consider...