Satan's Slaves + Impetigore (2017-2019) 凶鈴契約+凶宅契約 (Region A Blu-ray) (Hong Kong Version) Indonesian movie aka Pengabdi Setan + Perempuan Tanah Jahanam
$40.99 USD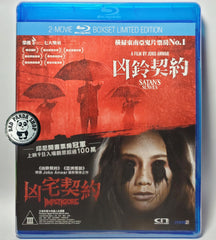 Region Coding: Region A (Locked)

Starring:
Tara Basro
Endy Arfian
Nasar Annuz
Dimas Aditya
Ayu Laksmi
Elly D. Luthan
Ario Bayu
Marissa Anita
Christine Hakim
Asmara Abigail
Kiki Narendra

Director:
Joko Anwar

Audio Tracks: 
Dolby True HD 5.1, Dolby Digital 5.1

Language: 
Indonesian

Subtitles:
English, Traditional Chinese 繁體中文字幕, Simplified Chinese 簡體中文字幕

Number of Discs:
2 Blu-rays

Running Time: 
106 + 107 minutes

Distributor:
CN Entertainment Ltd. (HK)

Release Date:
24 July 2020

Synopsis:
Satan's Slaves (2017) 凶鈴契約:
After being mysteriously ill for almost 3 years, mother finally passes away. Dad then leaves town for a job leaving the kids all alone. Soon, the children sense that mother has come back to the house. Things get worse when the children realize that mother has returned not only to visit them but to take them with her.

媽媽患病多年,在家中死去。深愛媽媽的四個子女守著大宅等待爸爸回來,卻發現媽媽的靈魂從未離開,夜半時更響起她生前專屬的搖鈴聲!但死去的親人又豈會傷害自己?友人陪同追尋真相,卻慘遭邪靈報復,這一切源於多年前的撒旦契約…


movie trailer (English & Chinese subtitled)


Impetigore (2019) 凶宅契約:
IMPETIGORE follows Maya, a down-on-her-luck young woman who learns that she may inherit a house in her ancestral village. But Maya returns to the village of her birth with her loyal best-friend, Dini, she's unaware that the community has been trying to locate and kill her to remove the curse that has plagued the village for years. As she begins to discover the complicated reality about her past, Maya finds herself in a fight for her life.

一個生活潦倒的女孩瑪雅有天得知自己原來繼承了一間大屋,於是她與好友阿丁重回出生的村落,卻渾然不知村民一直在找她,為的就是殺死她來解除村裡肆虐多年的惡咒。在她奮力逃生之際,自己的身世之謎亦慢慢浮面…


movie trailer (English & Chinese subtitled)
More items to consider...