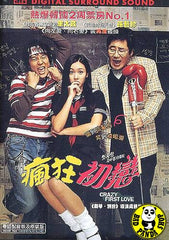 Region Coding: Region 3 (Locked)
Starring: 
Cha Tai Hyun
Son Ye Jin
Yoo Dong Geun

Director: 

Oh Jong Rok

Audio Tracks: 
Dolby Digital 5.1, DTS Digital Surround

Languages: 
Korean, Cantonese

Subtitles: 
English, Traditional Chinese

Running Time: 
103 minutes

Distributor:
Edko Films Ltd. (HK)

Release Date:
09 Feb 2006

Synopsis:
Tae-il is a super problem child of Kang High. He has on incredible IQ of 148, but he's only interested in marrying his first love Il-mae. Young-dal, Il-mae's father openly declares that he would allow Tae-il to marry his daughter if he could be admitted to the Law School of Seoul National University and pass the Judicial Examination. From then on, Tae-il's ultimate missions are to study and protect Il-mae from all the sleazeballs who approach her!
More items to consider...