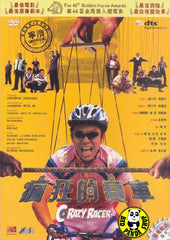 Region Coding: Region 3 (Locked)

Starring:
Jiu Kong
Huang Bo

Director:
Ning Hao

Audio Tracks:
DTS Extended Surround
Dolby Digital 5.1

Languages:
Cantonese, Mandarin

Subtitles:
English, Traditional Chinese, Simplified Chinese

Running Time:
105 minutes

Distributor:
Megastar / Media Asia

Release Date:
29 Oct 2009

Synopsis:

Ning Hao's Crazy Racer follows the misadventures of Geng Hao, a former champion cyclist who is barred from competition for unknowingly failing a drug test. Now a bicycle courier, he must think on his feet when he stumbles into an elaborate plot involving drug traffickers, ruthless businessmen, a Thai kickboxer and far too many mistaken identitles. Told with inventive characters and breathless slapstick timing, Crazy Racer outdoes Guy Ritchie's oeuvres at every turn.
More items to consider...