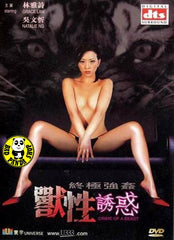 Region Coding: Region Free

Starring:  
Grace Lam
Natalie Ng
Wong Yat Fei
Samuel Leung
Chan Kwok Pong
Keung Hon Man

Director:
David Lau

Audio Tracks: 
Dolby Digital

Languages: 
Cantonese, Mandarin

Subtitles: 
English, Traditional Chinese, Simplified Chinese

Running Time: 
- minutes (TBA)

Distributor:
Universe Laser (HK)

Release Date:
05 Dec 2001

Synopsis:

A loner gains acquaintance with a beautiful psychopathist in a film studio and he treats her as his sole friend. But he feels hearbroken at a time when he misinterprets that she says something to humiliating him. He not only rapes her but also films the process. After this experience, he becomes a serial rapist and killer. The victimized psychopathist would not let him escape the punishment that he deserves...
More items to consider...