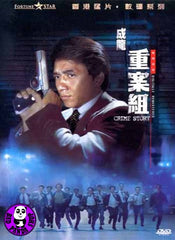 Region Coding: Region 3 (Locked)

Starring: 
Jackie Chan
Christine Ng
Kent Cheng
Law Ka Ying

Director:
Kirk Wong

Audio Tracks: 
DTS 5.1
Dolby Digital 5.1

Languages: 
Cantonese, Mandarin

Subtitles: 
English, Traditional Chinese, Simplified Chinese

Running Time: 
106 minutes

Distributor:
Joy Sales

Release Date:
11 Aug 2006

Synopsis:

Chief Hung has devoted his life to the police force but is frustrated in his career. In his private life, the middle-aged Hung falls madly in love with cabaret girl GaGa. Hung's wife takes all his money and leaves him. In desperation, Hung turns to crime. He soon pulls off are of Hong Kong's biggest robberies.

Inspector Jackie is sent down from head-quarters to crack the case. In spite of his ability, Jackie is getting no cooperation from his disgruntled asscoiates. Hung sets him up for bungles. Jackie goes to see Clarissa the psychoanalyst who advices him to be gentler and kinder. Jackie wins back his staff's support and respect. Soon, Jackie is on the right trail...
More items to consider...