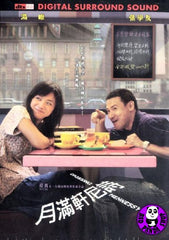 Region Coding: Region 3 (Locked)

Starring: 
Jacky Cheung
Tang Wei
Danny Lee

Director:
Ivy Ho

Audio Tracks: 
DTS-ES
DTS Extended Surround
Dolby Digital 5.1

Languages: 
Cantonese, Mandarin

Subtitles: 
English, Traditional Chinese

Running Time: 
105 minutes

Distributor:
Edko Films

Release Date:
28 May 2010

Synopsis:


The story of Crossing Hennessy takes place in one of the most colorful districts in Hong Kong — Wanchai. Loi's family owns an electric appliance store. Well over thirty, Lol is still like a carefree kid, living with his widowed but no less glitzy mother. His mom sets him up on a blind date with Oi-lin, a quiet and stubborn girl-next door. Neither she or him likes the idea of blind-dating, so on their first date they both go out of their way to make themselves as unattractive as possible to the other person. The truth is, Loi and Ol-lin both have someone else in their hearts. Oi-lin has eagerly waited for her boyfriend to complete his term in prison, but making up for the lost time is slightly harder than they've expected. Loi and Ol-lin, however, somehow meet up again, and this time the ice breaks. Now they may realize they are fond of each other more than they had initially bargained for...
More items to consider...