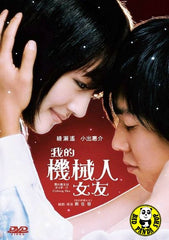 Region Coding: Region 3 (Locked)

Starring: 
Haruka Ayase
Keisuke Koide

Director: 
Kwak Jae Young

Audio Tracks: 
DTS 5.1
Dolby Digital 5.1

Languages: 
Japanese

Subtitles: 
English, Traditional Chinese, Simplified Chinese

Running Time: 
120 minutes

Distributor:
Intercontinental Video Ltd. (IVL)

Release Date:
11 Dec 2008
Synopsis:
On his twentieth birthday, Jiro's dream girl suddenly appears in front of him. But "she" is not just an ordinary girl! A love story no one has ever seen is about to be born!

On his twentieth birthday, a university student named Jiro meets the girl of his dreams and spends an unforgettable day with her. However, that same night, she disappears from him. A year later, on his birthday again, Jiro meets her once more. She looks like the same girl, but somehow a little different. Then she confesses a shocking truth - she is a cyborg that Jiro has sent from the future to fix his past! This life-changing encounter between these two brings difficulties. They have to conquer fate, which is pulling Jiro toward death, not to mention overcome the differences between a human being and a cyborg.
More items to consider...