Daily Lives Of High School Boys (2013) 男子高中生的日常 (Region 3 DVD) (English Subtitled) Japanese movie a.k.a. Danshi Kokosei no Nichijo
$17.99 USD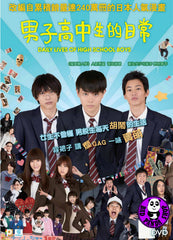 Region Coding: Region 3 (Locked)

Starring:
Masaki Suda
Shuhei Nomura
Ryo Yoshizawa
Taiga
Akihiro Kakuta
Koshiro Higashimukai
Louis Kurihara
Eita Okuno
Jiro Sato
Anri Okamoto
Mizuki Yamamoto
Mio Uema
Toko Miura
Kasumi Yamaya

Director:
Daigo Matsui

Audio Tracks: 
Dolby Digital

Languages: 
Japanese

Subtitles:
English, Traditional Chinese, Simplified Chinese

Running Time: 
- minutes (TBA)

Distributor:
Panorama (HK)

Release Date:
31 July 2014

Synopsis:
Based on the manga "Danshi Kokosei no Nichijo" by Yasunobu Yamauchi.

At an all boys high school, Tadakuni (Masaki Suda), Yoshitake (Shuhei Nomura) and Hidenori (Ryo Yoshizawa) are close friends and think usually all day about girls. Their high school then co-hosts a school festival with an all girls high school.
More items to consider...