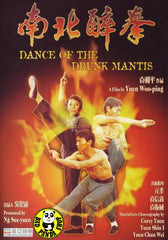 Region Coding:
Region Free


Starring: 
Yuen Siu Tin
Yuen Shin I
Hwang Jang Lee
Dean Shek

Director:
Yuen Woo Ping
Corey Yuen

Audio Tracks: 
Dolby Digital

Languages: 
Cantonese, Mandarin

Subtitles: 
English, Traditional Chinese, Simplified Chinese

Running Time: 
94 minutes

Distributor:
Mei Ah

Release Date:
20 Aug 2004

Synopsis:

After Jackie Chan's "Drunken Master", director Yuen Woo-Ping used the theme "drunken master" again and prodcues this martial arts movie. The story is about young Foggy who would like to learn drunken fist from the drunken fist master Sam the Seed but he fails. He is even taken advantage of by a villain to beat Sam. Luckily, Foggy comes through it and saves Sam eventually, which makes him become a hero of the time.

As fantastic as "Drunken Master", the renowned martial arts actor Hwang Jang Lee, Simon Yuen and Yuen Shin I have given their best performance with their superb kung-fu skills. With the amazing action sequences plus the utmost performances of the actors, this is absolutely a kung-fu movie which one should not miss.
More items to consider...