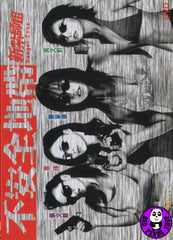 Region Coding: Region 3 (Locked)

Starring: 
Teresa Mak
Pinky Cheung
Jade Leung
Jackie Lui

Audio Tracks: 
Dolby Digital 5.1

Languages: 
Mandarin

Subtitles: 
English, Traditional Chinese

Running Time: 
105 minutes

Distributor:
Panorama HK Distributions

Release Date:
31 Dec 2003

Synopsis:

Witness Protection House, a supposedly very safe place for the accommodation of important witnesses, can sometimes be unsafe and even a tomb for anyone who lives in it. Ching and Lin have a mission of protecting two tainted witnesses Chun and his girlfriend Bonnie in a Witness Protection House. Yet, the killer can still find his way and figure out their whereabouts, forcing Ching to move the vulnerable witnesses to a more deserted House. Just as she gives herself a break at the new House, complacent with the safety they enjoy, killers descend unnoticed at their most isolated time. Ching and Lin fight back with their life. But they are not aware that the real killer has already been with them in the House...
More items to consider...