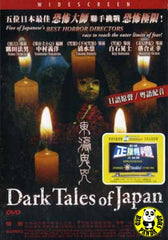 Region Coding: Region 3 (Locked)
Directors:
Shimizu Takashi
Tsuruta Norio
Ochiai Masayuki
Nakamura Yoshihiro
Koji Shiraishi

Audio Tracks: 
Dolby Digital

Languages: 
Japanese, Cantonese

Subtitles: 
English, Traditional Chinese, Simplified Chinese

Running Time: 
93 minutes

Distributor:
Universe Laser (HK)

Release Date:
31 Oct 2005

Synopsis:
1. The SpiderWoman:
A bus hurtles down a pitch-black road at midnight, stopping momentarily to pick up a solitary female passenger. She asks, "Want to hear a scary tale?" and in hushed tones begins her morbid monologue…
2. Crevices:
Kodera's friend disappeared without trace. He visits his friend's apartment but he is shocked by what the finds there.
3. The Sacrifice:
Mayu has a problem with a stalker at her workplace. She hurries home to care for her mother but finds her chanting the sutra. Since then she gets a strange mark on her hand.
4. Blonde Kwaodan:
Yoshio stays in his friends room alone in Los Angeles. He falls asleep but is aroused suddenly in his slumber.
5. Presentiment:
Fukawa is trapped with an old couple and a lady with white hat in the lift, he finds that these people start behaving strangely….
More items to consider...