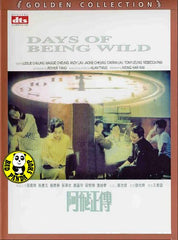 Region Coding: Region Free

Starring: 
Leslie Cheung 張國榮
Maggie Cheung 張曼玉
Andy Lau 劉德華
Tony Leung Chiu Wai 梁朝偉
Jacky Cheung 張學友
Carina Lau 劉嘉玲
Rebecca Pan 潘迪華

Director:
Wong Kar Wai 王家衛

Audio Tracks: 
DTS 5.1
Dolby Digital 5.1

Languages: 
Cantonese

Subtitles: 
English, Traditional Chinese, Simplified Chinese,

Japanese, Korean, Bahasa (Malaysia), Thai, Vietnamese, Bahasa (Indonesia)



Running Time: 
94 minutes

Distributor:
Megastar / Media Asia

Release Date:
6 May 2005

Synopsis:

Hong Kong, 1960. A sweltering hot summer. York (Leslie Cheung), an amoral, disillusioned and cruel young man is kept in luxury by his foster mother, a retired courtesan, who gives him everything but the one thing he needs to know - the identity of his natural mother. A self-obsessed man, desperately seeking his true identity, York plays carelessly with his lovers, a lonely submissive bargirl (Maggie Cheung) and a beautiful club hostess/dancer (Carina Lau) and his friends, before leaving them all for the Philippines in search of the truth that has been denied, and may ultimately destory him.
More items to consider...