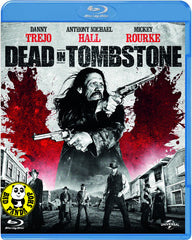 Region Coding: Region A (Locked)

Starring:
Mickey Rourke
Danny Trejo
Anthony Michel Hall

Director:
Roel Reine

Audio Tracks: 
DTS-HD Master Audio 5.1, Dolby Digital 5.1

Languages: 
English, Spanish, Portuguese, Thai

Subtitles:
English, Traditional Chinese, Korean, Thai, Spanish, Portuguese

Running Time: 
99 minutes

Distributor:
Universal Pictures / Intercontinental Video Ltd. (IVL) HK

Release Date:
4 Oct 2013

Synopsis:
Guerrero Hernandez, leader of the Blackwater Gang of outlaws. But after freeing his half-brother, Red (Hall), from prison, Guerrer's plan to loot the mining town of Edendale backfires spectacularly, when he is double crossed by his half-sibling. After making a deal with the Devil (Rourke), Guerrero comes back from the dead a year later to seek his revenge. The town, which has presciently been renamed Tombstone will soon have its dusty streets running knee-deep in a river of blood.
More items to consider...