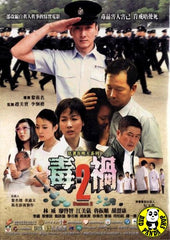 Region Coding: Region Free
Starring: 
Liu Kai Chi
Lam Wai
Elena Kong
William Hu

Audio Tracks: 
Dolby Digital 5.1

Languages: 
Cantonese, Mandarin

Subtitles: 
English, Traditional Chinese, Simplified Chinese

Running Time: 
103 minutes

Distributor:
Kam and Ronson

Release Date:
1 Dec 2011

Synopsis:
Following the global recession, Hong Kong's economy has been continuously affected by China's accession to the WTO, the living standard of the Hong Kong community has been slowing down, with more and more social problems arising, young people as well as adults who have weak minds, find it hard to resist different types of pressure, so they choose to escape by means of taking drugs, some of them even taking the risk to become drugs traffickers, not only harming themselves, they even bring tragedy to their whole family.

This story was written based on a real case, which brings stories from different classes and different age groups. The leads in the film fail to bear the pressure of their daily lives, thus the drugs dealers take the chance and tempt them with money...
More items to consider...