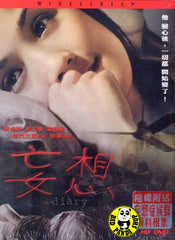 Region Coding: Region 3 (Locked)

Starring: 
Charlene Choi
Isabella Leong
Shawn Yue

Director:
Oxide Pang

Audio Tracks: 
Dolby Digital 5.1

Languages: 
Cantonese, Mandarin

Subtitles: 
English, Traditional Chinese, Simplified Chinese

Running Time: 
86 minutes

Distributor:
Universe Laser

Release Date:
21 Dec 2006

Synopsis:
The dour and volatile Winnie (Charlene Choi) likes to make wooden puppets and write in her diary. After her boyfriend Seth leaves her, Winnie becomes increasingly emotional and psychologically unstable. At the urging of her friend (Isabella Leong), she starts a new relationship with Seth-lookalike Ray (Shawn Yue), but the relationship soon takes the same downward spiral as before. As the situation worsens, so too does her grasp of reality. Or perhaps none of this is real in the first place. The answers all lie in her diary...
More items to consider...