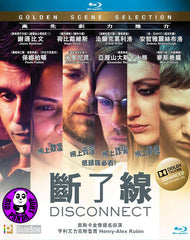 Region Coding: Region A (Locked)

Starring:
Jason Bateman
Hope Davis
Frank Grillo
Michael Nyqvist
Paula Patton
Andrea Riseborough

Director:
Henry Alex Rubin

Audio Tracks: 
Dolby TrueHD Advanced 96K Upsampling

Language: 
English

Subtitles:
English, Traditional Chinese, Simplified Chinese

Running Time: 
- minutes (TBA)

Distributor:
Panorama (HK)

Release Date:
24 Jan 2014

Synopsis:
A hard-working lawyer, attached to his cell phone, can't find the time to communicate with his family. An estranged couple uses the internet as a means to escape from their lifeless marriage. A widowed ex-cop struggles to raise a mischievous son who cyber-bullies a classmate. An ambitious journalist sees a career-making story in a teen that performs on an adult-only site. They are strangers, neighbors and colleagues and their stories collide in this compelling drama about ordinary people desperate for a human connection.
More items to consider...