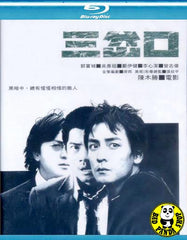 Region Coding: Region A (Locked)
Starring: 
Ekin Cheng 鄭伊健
Aaron Kwok 郭富城
Daniel Wu 吳彥祖
Angelica Lee 李心潔
Eric Tsang 曾志偉
Ning Jing 寧靜
Gallen Lo 羅嘉良

Director: 

Benny Chan 陳木勝


Audio Tracks: 
DTS-HD Master Audio 7.1, Dolby Digital 5.1

Languages: 
Cantonese 粵語, Mandarin 國語

Subtitles: 
English, Traditional Chinese, Simplified Chinese

Running Time: 
101 minutes
Distributor:
Universe Laser (HK)

Release Date:
04 Aug 2011

Synopsis:
In 2005, the director Benny Chan and the screenplay Ivy Ho jointly create an exciting story, DIVERGENCE, featuring three individual guys apparently with nothing in common: a loser cop whose fiancee is missing, a wayward assassin who always cross the line and a professional lawyer who is confused with the truth of justice. Supposingly there exists no connection among them. However, a murder draw them together, making everything complicated, unpredictable and....
More items to consider...