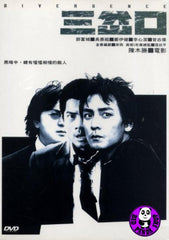 Region Coding: Region Free

Starring: 
Daniel Wu
Aaron Kwok
Ekin Cheng
Angelica Lee

Director:
Benny Chan

Audio Tracks: 
DTS 5.1
Dolby Digital 5.1

Languages: 
Cantonese, Mandarin

Subtitles: 
English, Traditional Chinese

Running Time: 
101 minutes

Distributor:
Universe Laser

Release Date:
16 Jun 2005

Synopsis:
CID Officer Shing arrests the accountant of a money launderer. However, the accountant is assassinated upon his arrival at Hong Kong airport. The killer escapes without leaving any clues. While the mastermind launderer is happy about the release of his frozen assets due the death of his unfavorable witness, his son Xia is kidnapped suddenly.

Shing is an ill-fated CID. He can't forget his loving girlfriend who disappeared 10 years ago and has not yet been found. During investigation, he finds a woman who looks very much like his missing girlfriend. The woman is the wife of the lawyer who represents the launderer. It raises his interest in the couple. Although the killer has completed his job, he can't help feeling great interest in the case and it violates the code of killers. The lawyer, To, is very successful in his field. He always wins cases in court and helps the suspects escape from prison terms. Will there be a hidden side for an arrogant person like him? Everyone in the story seems to possess some qualities that don't suit their identity. Will it engulf them into the whirlpool?

More items to consider...