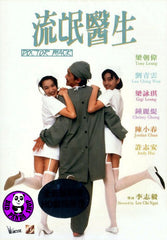 Region Coding: Region Free

Starring:
Lau Ching Wan
Tony Leung Chiu Wai
Andy Hui
Jordan Chan
Gigi Leung
Christy Chung

Director:
Lee Chi Ngai

Audio Tracks: 
DTS 5.1, Dolby Digital 2.0

Languages: 
Cantonese, Mandarin

Subtitles:
English, Traditional Chinese, Simplified Chinese

Running Time: 
- minutes (TBA)

Distributor: 
Vicol Entertainment Ltd. (HK)

Release Date:
15 Oct 2015

Synopsis:
Apart from sophisticated medical techniques, a doctor should also have respectful mortal and concern for his patients. Played by the glamorous Tony Leung, Dr. Mack Lau gives up his career in a famed hospital and opens a clinic in a run-down place. Not only does he heal the residences' wounds, but also their torn-and-broken hearts.The award winner Tony Leung plays this ignorant but passionate, carefree but romantic doctor with his marvelous acting techniques. The greatness of doctors is fully shown with his convincing performance.

More items to consider...