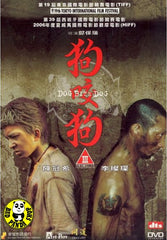 Region Coding: Region Free

Starring: 
Edison Chen
Sam Lee
Pei Pei
Wayne Lai
Lam Suet

Audio Tracks: 
DTS 5.1
Dolby Digital 5.1

Languages: 
Cantonese, Mandarin

Subtitles: 
English, Traditional Chinese, Simplified Chinese

Running Time: 
108 minutes

Distributor:
Joy Sales

Release Date:
29 Sep 2006

Synopsis:

"Only a beast can smell the tracks of its own kind."
Pang Jr., a young killer from Cambodia who has been accustomed to violence since childhood, arrives in Hong Kong to assassinate the wife of a judge. But once Pang finishes his job, he gets into a misunderstanding with his agent and is left astray on the city's unfamiliar streets. At the same time, CID officers Sam and his team of detectives, Lam, Keo, Cheung and Wai, get their orders and arrive on the crime scene to investigate. They soon start the pursuit, and Sam becomes more and more unstable and deranged as his colleagues are murdered one after the other...

More items to consider...