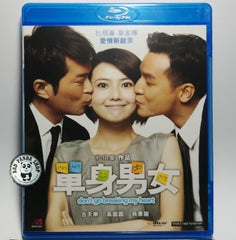 Region Coding: Region A (Locked)
Starring: 
Daniel Wu 吳彥祖
Louis Koo 古天樂
Gao Yuan Yuan 高圓圓
Terence Yin 尹子維
Lam Suet 林雪
Selena Li 李詩韻
JJ Jia 賈曉晨
Larisa Bakurova
Wai Ka Fai
Cheong Siu Keung
Yau Nai Hoi

Director: 

Johnnie To 杜琪峯


Producer: 
Johnnie To 杜琪峯
Wai Ka Fai 韋家輝
Audio Tracks: 
DTS-HD Master Audio 7.1, Dolby Digital 5.1

Languages: 
Cantonese 粵語, Mandarin 國語

Subtitles: 
English, Traditional Chinese 繁體中文字幕, Simplified Chinese 簡體中文字幕

Running Time: 
114 minutes
Distributor:
Mega Star (HK)

Release Date:
02 June 2011

Synopsis:
Yen is a single girl working in Hong Kong. One day, she notices a handsome hunk in the office building across the street trying to catch her attention with paper signs. A quirky romance ensues as she starts communicating with the stranger through paper signs every day. On the day when she finally has the chance to meet him in person, she discovers that the so-called romance is onl y an embarrassing mix-up on her part. Her fate changes when she is approached by a beggar named Kevin. They start talking and soon become best friends. She learns of his origins and starts helping him rebuild his confidence and get back on tracks. However, when the previous stranger tries to win her heart back, Yin is caught in an unwanted love triangle.
More items to consider...