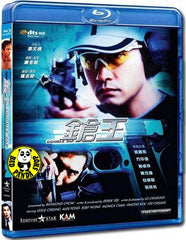 Region Coding: Region A (Locked)
Starring: 
Leslie Cheung
Alex Fong Chung Sun
Monica Chan
Ruby Wong
Jimmy Huang
Vincent Kok
Lindzay Chan
Alan Mak
Lawrence Lau
Fong Ping
Derek Yee
Law Chi Leung

Director: 

Law Chi Leung
Producer: 
Derek Yee 
Audio Tracks: 
DTS-HD Master Audio 6.1, 7.1

Languages: 
Cantonese, Mandarin

Subtitles: 
English, Traditional Chinese, Simplified Chinese

Running Time: 
94 minutes
Distributor:
Kam & Ronson Enterprises Co., Ltd.

Release Date:
11 June 2012

Synopsis:
A shooting and gun enthusiast – Rick (starring Leslie Cheung), meets the officer Miu (starring Alex Fong) in a shooting contest. Both of them knew that they are borne to be the competitors. They have similar level of professional techniques. At the moment defining the champion, a psychotic man starts shooting recklessly. Both Rick and Miu raise their guns but Miu fails to open fire in a group of people. Rick shoots at the man on spot. This is the first time he uses handgun to kill a person and knows the feeling of killing people.
Three years later, several members of the G4 and the key witness of a smuggling case are murdered. The killer is a professional hitman, finning ten shots within vive seconds. Miu is assigned to handle the case and he speculates that the murderer is Rick. A cold-blooded hitman and a cruel police officer are going to continue the competition they had three years ago, and determine who will be the ultimate winner or….
More items to consider...