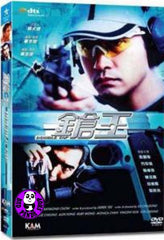 Region Coding: Region 3 (Locked)

Starring: 
Leslie Cheung
Alex Fong Chung Shun
Monica Chan
Ruby Wong

Audio Tracks: 
DTS 5.1
Dolby Digital 5.1

Languages: 
Cantonese, Mandarin

Subtitles: 
English, Traditional Chinese, Simplified Chinese

Running Time: 
94 minutes

Distributor:
Kam and Ronson

Release Date:
22 Jun 2012

Synopsis:

A shooting and gun enthusiast, Rick (Leslie Cheung), meets officer Miu (Alex Fong) in a shooting contest. They have similar levels of marksmanshi[. During the competition, a psychotic man starts shooting recklessly at innocent bystanders. Both Rick and Miu raise their guns but Miu hesitates. Rick shoots at the man on spot. This is the first time he uses a handgun to kill a real person and gets to know the feeling of killing people.

Three years later, several police offcers and the key witness of a smuggling case are murdered. The killer is a professional hitman, firing ten shots within five seconds. Miu is assigned to handle the case and he speculates that the murderer is Rick. A cold-blooded hitman and a cruel police officer are going to continue the competition they had three years ago, and determine who will be the ultimate winner...
More items to consider...