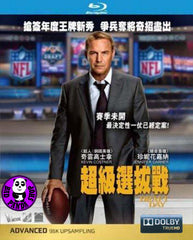 Region Coding: Region A (Locked)

Starring:
Kevin Costner
Jennifer Garner
Denis Leary
Ellen Burstyn
Frank Langella
Chadwick Boseman

Director:
Ivan Reitman

Audio Tracks: 
Dolby TrueHD Advanced 96k upsampling, DTS-HD Master Audio 5.1

Language: 
English

Subtitles:
English, Traditional Chinese, Simplified Chinese

Running Time: 
- minutes (TBA)

Distributor:
Vicol Entertainment Ltd. (HK)

Release Date:
18 Sept 2014

Synopsis:
On the day of the NFL Draft, general manager Sonny Weaver (Costner) has the opportunity to rebuild his team when he trades for the number one pick. He must quickly decide what he's willing to sacrifice in pursuit of perfection as the lines between his personl and professional life become blurred on a life-changing day for a few hundred young men with dreams of playing in the NFL.

More items to consider...