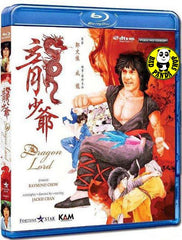 Region Coding:
Region A (Locked)


Starring: 
Jackie Chan 成龍
Mars 火星
Suet Lei 雪梨
Chan Wai Man 陳惠敏
Fung Hak On 馮克安
Corey Yuen 元奎
Mang Hoi 孟海
Tien Feng 田豐
Huang Ren Zhi
Chang Chung

Director & Writer: 
Jackie Chan 成龍


Audio Tracks: 
DTS-HD Master Audio 6.1, 7.1

Languages: 
Cantonese, Mandarin

Subtitles: 
English, Traditional Chinese

Running Time: 
103 minutes
Distributor:
Kam & Ronson Enterprises Co., Ltd.

Release Date:
15 Oct 2012

Synopsis:
The rich Wang has a son, Cowboy, who is the friend of Dragon Ho. One day we find Ho and Cowboy playing truant from their studies. The two young men are attracted by the beautiful Alice. Dared by Cowboy, Ho tries to get a love letter to her house by attaching it to a kite. The kite is blown off-course and Ho chases after it, desperate to recover his letter. The chase ends in a usually deserted house where Ho is surprised by imperial guards packing the treasure. Big Boss lets his go after Cowboy's father pleads for him. In the confusion, tiger manages to steal some of the treasure……
More items to consider...