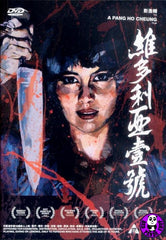 Region Coding: Region 3 (Locked)

Starring:
Josie Ho
Eason Chan
Norman Tsui

Director:
Pang Ho Cheung

Audio Tracks:
Dolby Digital 5.1

Languages:
Cantonese, Mandarin

Subtitles:
English, Traditional Chinese

Running Time:
95 minutes

Distributor:
Edko Films

Release Date:
29 Oct 2010

Synopsis:


When she was a child, Cheng Lai-Sheung (Josie Ho) could see Hong Kong's famed Victoria harbour from her apartment. But as time passed, the old buildings in front of her home were demolished to make way for a huge residential project: No.1 Victoria Bay, that now blocks her view. Increasingly disappointed and upset, she vows to one day save up enough money for her family to move into 'No. 1 Victoria Bay' with a magnificent sea view. In order to achieve her dream, Cheng has to work hard at two full-time jobs. She even goes as far as stealing customer data to sell to other companies. However, no matter how much she toils, she cannot earn enough to keep up with the forever out of reach apartment, until suddenly, it dawns on her. In order to get what she wants, she must take matters into her own hands...
More items to consider...