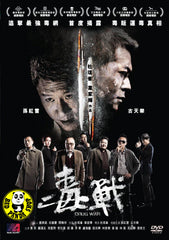 Region Coding: Region 3 (Locked)

Starring:
Louis Koo 古天樂
Sun Hong Lei 孫紅雷
Crystal Huang 黃奕
Michelle Ye 葉旋
Lam Suet 林雪
Wallace Chung 鍾漢良
Gan Ting Ting
Gao Yun Xiang
Eddie Cheung
Gordon Lam

Director:
Johnnie To 杜琪峯

Audio Tracks: 
DTS 5.1, Dolby Digital 5.1

Languages: 
Cantonese 粵語, Mandarin 國語

Subtitles:
English, Traditional Chinese 繁體中文字幕, Simplified Chinese 簡體中文字幕

Running Time: 
106 minutes

Distributor:
Mega Star / Media Asia (HK)

Release Date:
18 June 2013

Synopsis:
When Mainland Chinese Inspector Zhang runs into the Hong Kong man Cai at the hosital, who has been in a car accident due to chemical poisoning, he immediately senses something fishy about him. It turns out Cai is indeed a drug manufacturer closely linked to the notorious drug lord Li. To save his own neck, Cai agrees to help Zhang arrest Li by facilitating his disguise as a buyer in order to lure Li into a drug deal. Right before this undercover operation is about to bear fruit, Zhang realizes all too late that the relationship between Cai and Li is not what it seems, and instead of having played Cai as a pawn in a battle of wits, he himself has been a pawn in Cai's own game all along.



movie trailer
More items to consider...